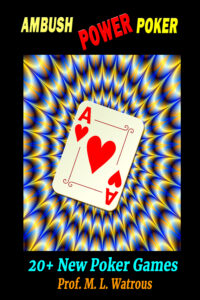 "Ambush Power  Poker" presents a new approach to over 20 new, exciting, new poker games. Players begin playing with their cards placed face-down in a 3 x 3 matrix poker pattern in front of them … then the fun begins!
People play poker games for many reasons. Surprise and power are two of them. Gambling is an option. Poker players share a common need for action, variety, and sheer joy.
The surprise and thrill of turning over the final card that brings the house down is like no other experience.
The cards control an unfolding mystery that carries each player … with mounting pressure and anticipation … to the end of their own game. Secrets and bluffing are not the experts in these games.
Lady Luck is definitely the "Mistress of Power" in these 20+ new poker card games.
There are also several new powerful poker hand additions to spice up the play … which could also be used in traditional poker.
This new poker format could be used in televised tournaments … because no one ever knows the outcome of Ambush Power Poker until the final card is turned up!
Why? Because the power of this game lies in the final card turned up in the middle of the 9-card matrix display … expert or not … Lady Luck is in charge of this game!
Get this new book and start enjoying over 20 exciting, new types of poker games … by yourself … or with your friends.
CLICK IMAGE ABOVE … OR CLICK HERE:  Ambush Power Poker
Who knows … Lady Luck could blow you a kiss!