Play Ambush Power Poker
Dear Player,
Here is a basic refresher to play Poker … which you can compare with Ambush Power Poker.
You will need to get the new book to explore all the new poker games and how they are played.   CLICK:  Ambush Power Poker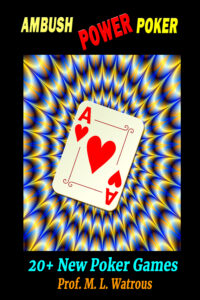 In Addition to Learning Traditional Poker ...
Introducing over 20 brand-new poker games!
Challenging New Fun for poker players … beginner to expert.
Game play requires new thinking in poker game playing.
 WHY? Because there are so many more play options!
Huge Tournament Possibilities for TV shows!
 GET THIS NEW BOOK TODAY …
 CLICK:  Ambush Power Poker
POKER GIFT SURPRISE
Note: You can also use the order link above to send the Ambush Power Poker book … as a gift to a friend or group for any occasion or holiday … even if you have already bought one for yourself.
SOMETHING EXTRA FOR YOU
Here is something extra for you. In addition to learning new poker games … some folks like a little more action on the side with multiple sports options. (Note: If you have a gambling problem … or think you do … this information may NOT be for you.)
If you are interested in betting for money … or gaming for fun … you can choose many popular actions below.
Here are ten popular websites you can browse through at your leisure.
We know that many people will want to keep up with us … so subscribe here … and unsubscribe anytime you want to.